Motorcycle inner tube
| MODEL | MODEL | MODEL | MODEL | MODEL | MODEL |
| --- | --- | --- | --- | --- | --- |
| 3.00-8 | 3.00-12 | 1.85-14 | 170-17 | 2.25-18 | 2.25-19 |
| 3.25-8 | 3.50-12 | 2.25-14 | 175-17 | 2.50-18 | 2.50-19 |
| 3.50-8 | 3.75-12 | 2.50-14 | 185-17 | 2.75-18 | 2.75-19 |
| 4.00-8 | 4.00-12 | 2.75-14 | 200-17 | 3.00-18 | 3.00-19 |
| 2.75-10 | 4.50-12 | 3.00-14 | 2.25-17 | 3.25-18 | 3.75-19 |
| 3.00-10 | 5.00-12 | 80/100-14 | 2.50-17 | 3.50-18 | 4.50-19 |
| 3.50-10 | 120/70-12 | 110/80-14 | 2.75-17 | 4.00-18 | 70/100-19 |
| 4.00-10 | 130/70-12 | 2.25-16 | 3.00-17 | 4.10-18 | 90/90-19 |
| 5.00-10 | 130/60-13 | 2.50-16 | 3.25-17 | 4.50-18 | 110/90-19 |
| 130/90-10 | 130/90-15 | 2.75-16 | 3.50-17 | 4.60-18 | 2.75-21 |
| | | 3.00-16 | 4.00-17 | 90/90-18 | 3.00-21 |
| | | 3.25-16 | 4.10-17 | 100/90-18 | 80/100-21 |
| | | 3.50-16 | 4.60-17 | 100/90-18 | 90/90-21 |
| | | 4.50-16 | 70/90-17 | | |
| | | 110/90-16 | 80/90-17 | | |
| | | | 110/90-17 | | |
Lighr truck inner tube
| MODEL | MODEL | THICKNESS(mm) |
| --- | --- | --- |
| FR13 | TR13 | ≥ 1.6 |
| FR13/14 | TR13 | ≥ 1.6 |
| FR14 | TR13 | ≥ 1.6 |
| FR15 | TR13/TR15 | ≥ 1.6 |
| KR16 | TR15 | ≥ 1.6 |
Bicycle inner tube
| MODEL | WIDTH(mm) | THICKNESS(mm) |
| --- | --- | --- |
| 10*2 | 46 | 1.2 |
| 12*1.75/1.95 | 44 | 1.2 |
| 14*1.75/1.95 | 44 | 1.2 |
| 16*1.75/1.95 | 44 | 1.2 |
| 18*1.75/1.95 | 44 | 1.2 |
| 20*1.75/1.95 | 44 | 1.2 |
| 22*1.75/1.95 | 44 | 1.2 |
| 24*1.50/1.75 | 44 | 1.2 |
| 24*1.75/1.95 | 44 | 1.2 |
| 26*1.50 | 38 | 1.2 |
| MODEL | WIDTH(mm) | THICKNESS(mm) |
| --- | --- | --- |
| 26*1.75/1.95 | 44 | 1.2 |
| 26*2.125 | 53 | 1.2 |
| 29*2.125 | 53 | 1.2 |
| 24*13/8 | 36 | 1.2 |
| 26*13/8 | 36 | 1.2 |
| 28*11/2 | 44 | 1.2 |
| 28*1.50/1.75 | 38 | 1.2 |
| 26*21/2 | 65 | 1.2 |
| 700*18*23L | 21 | 1.2 |
| 27*11/4*(700*25*32L) | 31 | 1.2 |
Laboratory
The laboratory tests each model in each batch every day, including rally testing and aging testing. Rally reflects the strength and elasticity of the inner tube; aging is related to the storage time of the inner tube and the stability of the performance.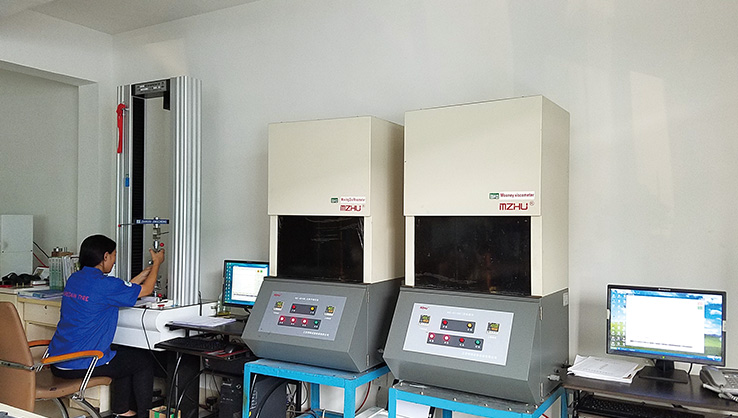 Valve
Valve is and important part of inflatable tires. The function is to give the tires inflated and deflasted, and maintain the seal of tyre after the tyre inflated. Ordinary calve consists of three main part : valve body,valve core and calve cap.
The characterristics of PUREGAIN valves
Products Adcantages
A : The diameter of rubber washer is bigger and made with higher percentage of natural rubber to resist the damage aging.
B : The length of valve sleeve is longer to inflate and install easily.
C : The valve cap is furable, unbreakable and flexible to install the valve core. It is available in a varity of colors.
D : The valve trough customized producing specially to firmly adhere to the tube.
E : The metal parts and accessories of valve through special pricessing have good anti-oxidation and resistance.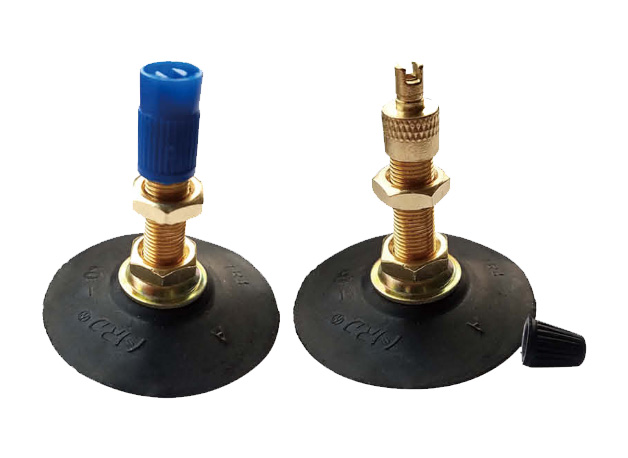 | TRNO. | A | B | C | D | E | RIM HOLE | Max.Pressure |
| --- | --- | --- | --- | --- | --- | --- | --- |
| TR13 | 56 | 11.5 | 3.2 | 40.2 | - | 11.6 | 500Kpa |
| TR4 | 45 | 8.3 | 4.5 | 41.5 | - | - | 450Kpa |
| TR87 | 45 | 11.3 | 4 | 23.5 | 33 | - | 1050Kpa |
A/V
D/V
E/V
F/V
For Electricbike tube
TR87
JS-2
TR4
TR13
VAMD-161
PVR30
PVR70
TR75A
TR79
TR-6
AV
TR1
FOR Bicycle
Tube